Roanoke Area RV & Camper Locksmith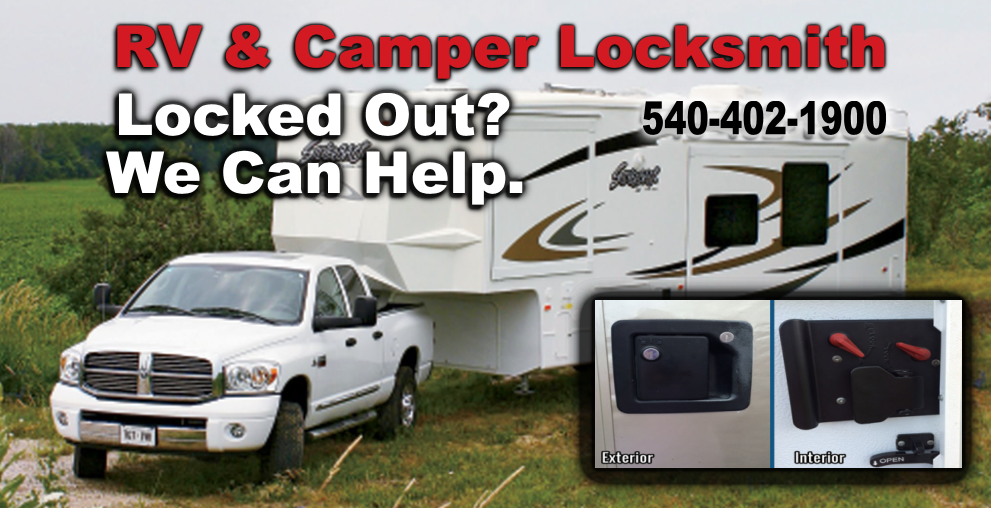 Have you been locked out of your RV or Camper? We do not make keys! We can however unlock your camper or RV doors when you get locked out. It is common for the handle lock to lock you out of your camper. If you are in the Roanoke area and need help getting back in to your camper we will be there quickly to help you. We can pick RV and Camper locks.
---

---
RV  – Camper – Trailer Models
Jayco
Models: Redhawk, Greyhawk, Melbourne, Seneca
Both the Redhawk and GreyHawk use Ford or Chevy gasoline powerplants and chassis. The Melbourne uses a Mercedes 3500 Springer chassis and diesel engine while the Seneca uses a Freightliner chassis and Cummins  Diesel with dual rear wheels. The Seneca features a king size bed while the others have queen sized beds. Jayco is one of the most recognizable names in RVs, and these Class 3 models are some of the best around.
Kibbi LLC Renegade
Models: Classic
This Freightliner-based Class C motorcoach has a queen sized bed, a full bath and with the optional slides, you can have more bed space, a separate dinette and a large kitchen. The owner was banned from showing his RV at the National RV Convention because he wasnt a member, so he showed it in the parking lot outside and was known as a renegade for doing so. Hence the name of the vehicle.
Lazy Daze
Models: 24 Foot, 27 Foot, 31 Foot
All Lazy Daze campers are built on a Ford F-450 chassis with a gasoline powered engine. This factory direct RV maker has been in business since 1956 and it is one of the smallest manufacturers known. It is one of the few RVs that don't feature slides, but they are also some of the least expensive units made.
Nexus
Models — Phantom 25 ford E350 Chassis, Phantom 31 Ford E450 Chassis, Phantom 32 Ford E450 Chassis
The Class C Nexus offerings are all gasoline powered and you can take a standard design or design your own. The single slide 25 comes with a queen sized bed, while the dual slide 31 gives you more kitchen area and the dual slide 32 gives you a bunk bed option. These factory direct units make them a great value in the Class C market.
Power House Coach
Models — Ultra Line 1 thorugh 8 all on aVovo or Freightliner Chassis, Diesel Engine
These Class C luxury machines are as close as you can come to a Class A without paying th Class A price. Fully custom built to your specifications, mlost come with kingsize beds, multiple slides and even a bunkhouse version for maximized sleeping arrangements, a cargo version and even a wheelchair accessible unit.
Showhauler Motorhome Conversions
Showhauler lets you choose virtually any semi truck chassis for conversion. These are 100% custom made to your specifications, you can get a fully functional motorhome or a towing version called a Toterhome.
Thor Motor Coach
Diesel Models: Chateau, Four Winds, Citation, Siesta, Synergy, Gemini Compass  on the Mercedes Sprinter Diesel Chassis, Super C Chateau or Four Winds on the Ford E-550 chassis.
Gasoline Models: Four Winds, Chateau, Quantum, Outlaw on the Ford E-450 or Chevy Chassis
One of the largest and most rspected RV makers, Thor has many models, engine and chassis configurations to choose from. Floorplans include king or queen beds, the Sprinter models are easy to manuever and there is even a bunkhouse model for maximum sleeping accommodations.
Winnebago
Diesel Models: Navion on the Mecedes Sprinter Chassis, Fuse on the Ford Transit Chassis,
Gasoline Models: Aspect, Cambria, Minnie Winnie, Spirit on the Ford E450 Chassis, Trend on the Dodge ram Promaster Chassis
The most well known RV maker with models for virtually any budget. Featuring multiple slides with both extended bed and kitchen options, there is a Winnie that will fit your RV needs.
Xplorer Motor Homes
Models — Ford Xcursion on either the F-550 or F350 Chassis, Dodge Xcursion on the Dodge Ram 3500 Chassis, your choice of either Diesel or Gasoline Powered
This small RV maker keeps its prices down by offering a compact Class C without any slide outs. You get the basic amenities like a queen sized bed over the cab, your choice of lounge chairs of sofas, and a complete kitchen. Nothing fancy just a great value. 35 years of building and still going strong.
Fifth Wheel
Fifth wheel trailers are essentially Class C RVs without an engine. They are some of the largest and most practical RV trailers on the road. All feature such amenities as optional slide outs, king and queen sized beds and large kitchen areas.
We wll list the makers and any features that make them stand out from the rest.
Alpine
Owned by Keystone RV, Alpine Fifth Wheels are the #1 seller in the U.S. One of their main options is an actual built-in fireplace.
Americana RV
Models: Sequoyah, RT and Travel Bug. A major innovation includes self sustaining solar panels.
ATC Recreational
Models: The 34~3BR model claim to fame are 3 walk-in bedrooms.
Coachmen
Models: the Brookstone and the Chaparral, the Chaparral Lite and X-Lite. Coachmen uses Azdel Composite sidewalls for structural rigidity.
Coleman
Owners of the Dutchman RV name, the models are the Denali and the Voltage.
Crossroads Recreational Vehicles
Models: the Cameo, Carriage, the Cruiser Standard, Aire and Touring, the Elevation, Rezerve, and the Sunset.
From low-end to high-end, Crossroads has you covered.
DRV Suites
Models: The Mobile, Elite and Fullhouse offer some of the most luxurious Fifth wheels available.
Dynamax
Model: The Trilogy. Built with 250 square feet of basement storage and a Dyson vacuum built-in.
Evergreen
Owners of the Lifestyle RV name, the models include the Bay Hill, Tesla, Alfa Gold, Bat View Select and the Lifestyle. An optional center mounted fireplace is available and these RVs are built from the ground up.
Forest River
One of the premier makers of Fifth wheels, they have many models to choose from. They are the Black Diamond, Blue Ridge, Cardinal, Cardinal Estate. The Cedar Creek Chamapagne Edition, Hathaway Edition and Silverback Edition, Cherokee, the Flagstaff Classic and Regular Super Lite, the Salem Hemisphere,  Wilwood Heritage Glen, Silverstone, Rockwood Signature and Rockwood Ultra Lite. The Sabre, Salem, Sandpiper and Sandpiper Select, the Sierra and Sierra Select, Surveyor, Vibe and Wildcat, the Wildcatt Maxx and the Wildwood. Forest River prides itself on being at the forefront of the industry in Fifth Wheel production.
Forks RV
Model Continental Coach Elegance. This luxury RV features solid hardwood cabinetry and trim.
Gulf Stream Coach
Models Canyon Trail and the Sedona. These Fifth wheels are fully insulated and 4 season capable.
Heartland RV
They feature the Luxury Class, Full-Profile Class and the  Mid-Profile Class Fifth Wheels. Heartland Fifth wheels command a higher resale value then most.
Jayco
Featuring the Eagle, Northpoint, Pinnacle and Designer Fifth Wheels. Jayco is known the world over as one of the premier RV suppliers.
K-Z Fifth Wheels
The Durango 1500, 2500 and the Gold, Sportsmen, Sportster and the Venom. Full time luxury all the time.
New Horizons
Models Summit and Majestic. The Fifth Wheel models have the only 5 Star rating in the industry.
Northwood Manufacturing
Arctic Fox Silver Edition and the Fox Mountain. You can custom build your own Fifth wheel, and even add bunk beds.
Open Range
— Models Roamer, Open Range and Lite. Open Range has been selected as one of the Top 50 RV Dealers every year.
Pacific Coachworks
— Models include the Blaze'n, Pacifica, Panther, Powerlite, Rage'n, Sandsport and the Tango. Since 2006, Pacific Coachworks is the premiere builder of high quality recreational vehicles.
Palomino
Models Columbus, Puma and Puma Unleashed. Purchased by Forest River, Palomino has been building RVs since 1968.
Recreation By Design
Platinum. One of the easier towing Fifth Wheels made.
Scamp Trailers
Scamp 19. This is one of the smallest and lightest Fifth Wheel made.
Skyline
Model Layton Trident. this is an affordable entry-level Fifth Wheel that will fit many budgets.
Space Craft
34′ Fifth Wheel. When you need to get out into open spaces, nothing beats a Space Craft. Custom built for your desires.
Starcraft RV
Models: AR-One Maxx, Travelstar and Solstice. Starcraft is a subsidiary of Jayco, and the build quality, form and function show.
Travel Units
35′ and 40′ Models. These are custom made Fifth Wheels designed by you on a standard floor plan.
Travel Trailers
These trailers are desined to be pulled on a hitch, generally by a truck. They are very similar to Fifth Wheel designs, featuring multiple slide out options, sleeping arrangements, small kitchens and compact bathrooms. Some of the smallest, lightest weight and most easily portable full-sized RVs are in this segment.
Airstream
Models are the Land Yacht, Classic, International, Flying Cloud and Sport. This is the trailer that all others are judged by. From the big dog Land Yacht to the easily pullable Sport, if you own an Airstream, you own one of the best there is.
Award Recreational Vehicles
Models: The Classic. Aerodynamic, lightweight and fuel efficient, that's what the Award Classic is all about.
Casita Travel Trailers
The Patriot, Spirit, Freedom, Liberty, Independence Models. Small, lightweight and aerodynamic, for smaller families a Casita is a solid choice.
Coachmen
Models: Freedom Express, A[pex Ultra-Lite, the Catalina, catalina SBX and Destination, the Clipper and Viking Ultra-Lites.  Since 1964, Coachmen trailers have been on the road.
Coleman
Models: Lantern and Ultra-Lite. Some of the most affordable ravel trailers made.
Crossroads
Models: Altitude, Rezerve, the Sunset Grand Reserve, Super Lite and Ultra Lite, the Z-1 and the Zinger.  Since 1996.
Cruiser RV
Models: Shadow Cruiser, MPG, Radience Touring, Fun Finder.  A subsidiary of Thor RVs, Cruiser RV is a second generation RV builder.
Dutchmen RV
Single Model: Duthmen makes travel trailers for many other distributors including Coleman, Aspen Trail, Aerolite and Kodiak among others.
Eggcamper
Single Model: The Eggcamper, which looks like an egg, is small and light enough to be pulled by many SUVs and Crossovers.
Escape Trailer
Models: 17 Foot, 19 Foot, 21 Foot and the Escape 5.0TA. The Escape is made in British, Columbia, ans is known for its high rsale value.
EverGreen
Models: the Everlite, Sun Valley, I-Go Series, Element, Amped and the Reactor. One of the "greenest" RV makers that use sustainable materials, lean manufacturing techniques that leave minimal environmental impact.