Places Our Locksmith Service Frequents – Fast Response Car Lock-Outs
Big Lick Locksmith is located in Roanoke VA and services the region almost 24 hours a day 7 days a week. We offer lock out services for cars and homes. We do not make car keys – BUT if you get locked out of your car or your home we are the fastest and safest solution in the area. If we are unable to help you ourselves we will contact a licensed industry associate to help you.

   Common Places We Service In Roanoke VA and how people find us when searching online: 
Valley View Mall Locksmith Service –

We help many mall customers while shopping at Valley View mall or near Walmart at Valley View. A Locksmith is always close by the Mall area to assist you. The security at Valley View calls us weekly to help unlock cars near Valley View in NW Roanoke VA.

Tanglewood Mall Locksmith –

We are in the area! Our private workshop is 1 mile away from Tanglewood Mall and a locksmith is always minutes away from the Tanglewood area and close to the hotels like Holiday Inn Tanglewood or Sleep Inn, Macados Restaurant, on Route 419 and down Franklin Rd, a locksmith is always close.

Towers Mall On Colonial Ave in Roanoke –

-We go to Towers Mall daily for locksmith calls when people lock their keys in their car at Towers Mall we get to them within 5-10 minutes in most cases. It seems like we are always near Towers Mall – Many locksmith calls go down the lower level near Kroger Grocery Store and up top near CVS and Fresh Market. A locksmith will bet there fast in these Mall Parking lots.

Williamson Rd – NE Roanoke 24012 Area

– Williamson Rd area gets many lock-out calls for cars and home lock-outs. Anytime you need a locksmith near Williamson Rd in Northeast (24012) we can get to ya quickly.

Near Walmart (Clearbrook, Bonsack, and Valley View)

– At walmart and lock your keys in your car? Good news we are near Walmart in Roanoke and Clearbrook. Call us for help when you are at Walmart and need a locksmith to pop your door open for you.

Garden City / Roanoke City Locksmith in Southeast (SE)

– A Garden City Locksmith is nearby for sure. 2 of our technicians live 2 miles from garden city and can help you if you are locked out of your house, apartment, car or truck.

Locksmith Downtown Roanoke and in Old SW Roanoke – 

Downtown is a hotspot in Roanoke with shopping, Food, Entertainment, and more. Big Lick Locksmith is 3 Miles away from Downtown Roanoke at any given time and will get to your fast with lock-out services.

Salem VA Locksmith –

We are sometimes close to salem and can come help you in Salem on Mainstreet and have locksmith service near Roanoke College in Salem VA 24153 – If you are deep in Salem near or past walmart it may take a few minutes before we can get out to that end of salem because it is a 25 Minute drive from Roanoke. Hickson Lock and Key Is Near West Salem Also and an help you.

Hotel/Motel locksmith in Roanoke and Salem –

At a hotel or motel in Roanoke VA or Salem VA? We can help you get your keys out of a locked car when you are at a hotel in the region. Many hotels connect with us to offer discounts to their guests. Hotel owners/management are urged to contact us to become a partner!

City and Counties We Service Frequently –

Roanoke County, Roanoke City, Garden City, Salem, Vinton, Bonsack, Botetourt, Mt Pleasant, Hidden Valley, SW Roanoke, NW Roanoke, SE Roanoke, NE Roanoke, Hollins VA, Troutville, Clearbrook, Boones Mill, and many more.
Zip Codes We Frequent 

24012, 24153, 24015, 24014, 24179, 24011, 24013, 24018, 24017, 24016, and more.
If you are searching for a locksmith near these locations, licensed, cheap, and professional, then your search is over — our car and truck locksmith service is there for you 7 days a week. Do you need your car door unlocked? If you are locked out of your car or truck, give us a call. Our response time is between 20 Minutes – 30 Minutes or less in the Roanoke Area and even faster in our hotspots mention above. We also service a 30+ mile radius of our normal service area,if you are not in our immediate coverage area, we can still come get you back in your vehicle – It will just take longer to reach you and their may be a trip charge included to cover Gas and Time. Call us anytime for help when you are locked out of your car.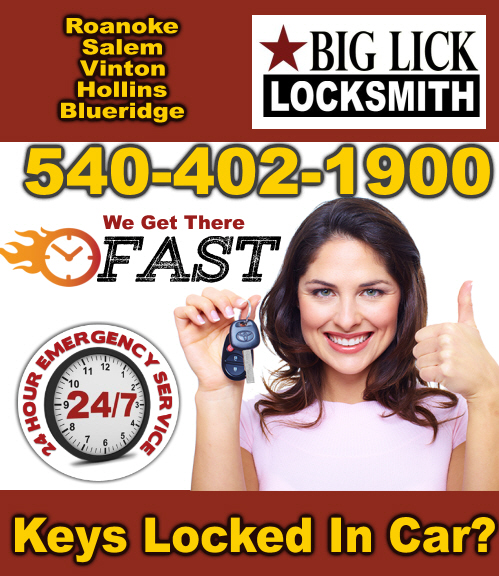 Car and Truckk Lock-Out Rates Start at $40.00 and depending on where you are, what time it is, and type of vehicle can be a little more (The Max is $60 during normal buiness hours). We charge based off of distance and time it takes to get to you, do the job, and get back to our location. We have very competitive pricing. We are an automotive and home lock-out service – we get people back in to there house or car when they are locked out. We also offer lock changes for residential clients. We do not do car ignition work or make programmable keys or fobs or cut/make spare keys. You will want to try B&D Lock on Williamson Rd for that. We are a 24/7 Emergency Locksmith service.
One of the tools we use is a soft material strong air wedge also called an air jack to to create a small gap between your car door and car… this is called air wedge. It causes no damage when used properly and in the right spot of your door. Using this the wrong way can set-off airbags, break windows, and bend door latching parts. This tool is a very safe and widely used tool in the industry. For over 15 years our locksmiths have used tools like this to get people back in to their cars and it is MUCH safer than a "slim Jim" which are ot used much by professionals on newer cars. A slim Jim was a tool of the 70's and 80's and some in the 90's. We use the most updated tools and technolgy to open locked cars in Roanoke.